If you have a
PASSION FOR EQUALITY
, welcome to your city! It's a left-leaning and progressive alternative reality from which I -
BUCKMINSTER DUCK - QUACK CITY'S
most celebrated and never-to-be subtle resident - keep a watchful eye on the headlines of the day.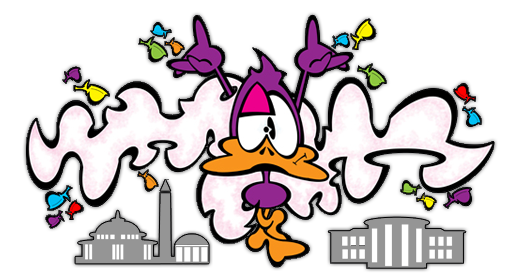 I am OUT
I celebrate my festive self and honor all orientations, letting my feathers fly in all directions, no matter who they might tease, tickle and taunt.
I am OUT-raged
I say it's time to wake up and smell the Tea Party. I quack like I see it, feel it, and taste it.
I am OUT-rageous
FAAAAAAAAAAAAAAAAAAAAAAAAAAAAAAAAAAAAAAAAAAAABULOUS,
in a hot pink feather boa, how can I be anything but subtle?

In this wacky metropolis of
QUACK CITY
, there's always a fun and festive invitation to:
LAUGH
at all the political and societal nonsense and quackery we have to put with with. As long as we keep laughing, we'll stay sane amidst all the insanity.
THINK
and stand strong in our own abilities, free from the agendas of others. Let's be the authentic spirits we were born to be, thinking - and laughing - at the same time.
QUACK
whether you QUACK OUT LOUD or QUACK SOFT, do let your authentic voice be heard. Take action for your own equality, and take a stand by speaking out against social injustice and prejudice.

So
LAUGH, THINK
and
QUACK
along with me! I'll stir up a scaaaaaaaaaandalous mix of politics and pop culture that will either tickle you with a duckfeather, or be a stiletto to the forehead!